Choose size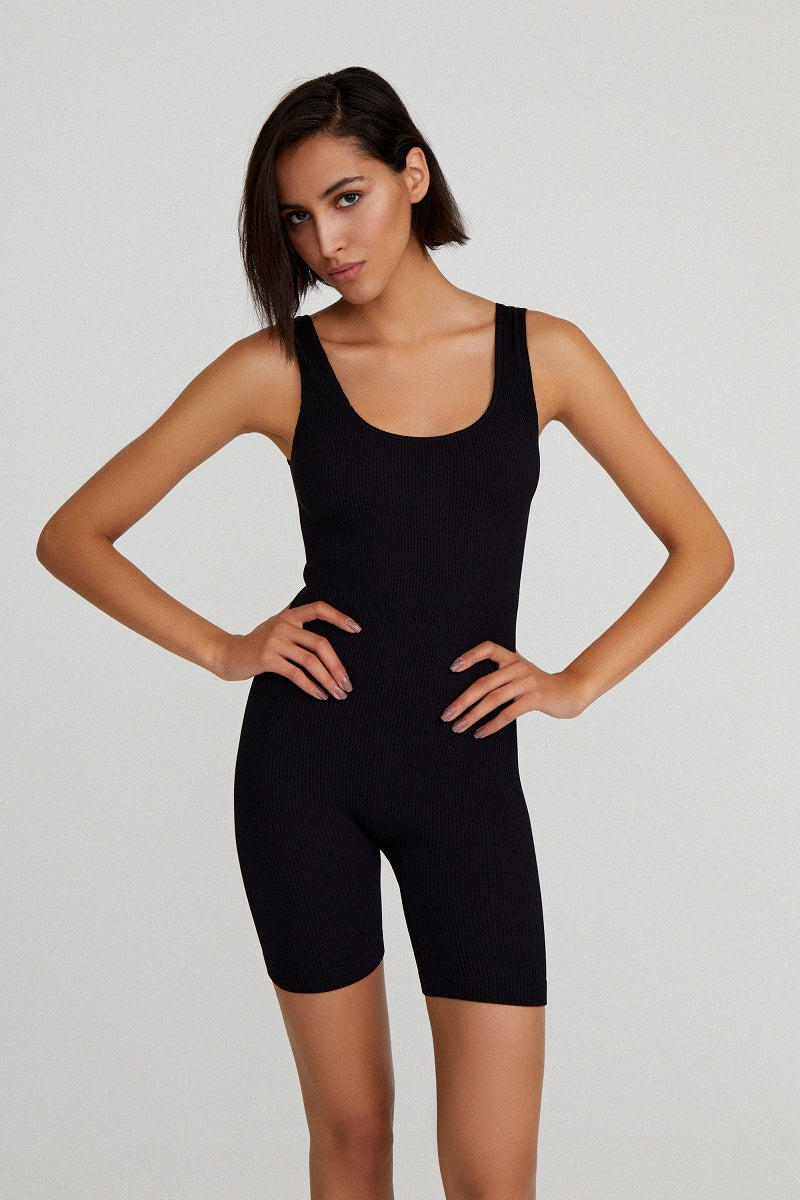 SKU: 24760_nero
Jumpsuit with built-in shorts
Color: Black
€

75.00
---
Size chart
Size chart
---
Product label
Chest (cm)
Underust (cm)
Waist (cm)
Hips (cm)
Height (cm)
XXL
104
95
86
108
170-176
Scroll horizontale to see more.
Successfully added to cart
---
Jumpsuit with built-in shorts
add to cart
Jumpsuit with wide straps with cropped shorts. This jumpsuit is made of soft, ribbed microfiber. The jumpsuit is made with seamless technology so it has no middle or side seams. The flat seam is located on the inner surface of the legs. For ease of movement, a gusset insert is provided. The neckline, armhole, and bottom of the product are hemmed with a flat seam. The round neckline has a moderate depth.

The jumpsuit fits the figure, emphasizing the silhouette. The jumpsuit is suitable for everyday wear and for home looks. It also can be used to create modern urban looks such as combining with elongated sweaters, oversized shirts and jackets. Due to the good elasticity of the material, we recommend this model for pregnant women.

Please note: light-colored colors can show through. Arrows may form in the fabric if sizing is incorrect. When choosing a size, we recommend that you focus on growth.

Composition: 96% Polyamide, 4% Elastane.

Made in Italy

Bust: 46cm (XS), 50cm (S), 54cm (M), 58cm (L)
Hips: 46cm (XS), 50cm (S), 54cm (M), 58cm (L)
Depth of neckline: 17 cm (XS), 17.5 cm (S), 17.5 cm (M), 18 cm (L)
Strap width: 4cm (XS), 4.5cm (S), 4.5cm (M), 5cm (L)
Armhole depth: 38cm (XS), 44cm (S), 45cm (M), 46cm (L)


Hem width by
Leg: 2.5cm (XS), 2.5cm (S), 2.5cm (M), 2.5cm (L)
Lower leg circumference: 24 cm (XS), 26 cm (S), 26 cm (M), 30 cm (L)
Product length from shoulder: 73 cm (XS), 76 cm (S), 76 cm (M), 79 cm (L)

180 cm, chest 82 cm, waist 60 cm, hips 90 cm, model wears XS / S
customer reviews
There are no reviews yet.